Appraisal Training Package
Making sure that managers are both engaged in the Appraisal process and are capable of carrying it out effectively is essential to managing performance in your organisation. Flow learning provide classroom training, e-learning and blended learning to help you improve engagement and capability in Appraisal and performance management. Here's our online course page for our Appraisal series.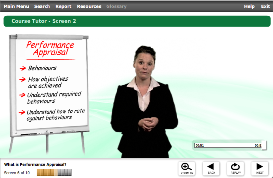 We have four e-learning courses in Appraisal and Performance Management
- here's a brief summary of what they cover:
An Overview of Appraisal and Performance Management
This course starts with an attention-grabbing video of a manager moaning about doing Appraisals! The course introduces Appraisal and the key steps to delivering a successful appraisal and why it's so important to improving performance. Topics include: benefits of a good appraisal scheme; the structure of good appraisals; how to successfully introduce an appraisal scheme; how to overcome negative perceptions of appraisals. Duration: 35 mins
Preparing for the Appraisal
Preparation is one of the key aspects of an effective appraisal. This course covers why it's important, what sort of preparations you need to make and suggests ways of going about it. Topics include: the importance of appraisal preparation; how to gather relevant appraisal information; the criteria that performance objectives need to meet, how to describe and agree on performance objectives.
The Appraisal Discussion
You understand the importance of Appraisal and you've done your prepartions - this course helps you to run the Appraisal meeting, handle difficult situations and get agreement on objectives and assessment performance. Topics include: the structure of the appraisal discussion; how to record the discussion; how to avoid 'appraisal speak'; how to handle difficulities. Duration: 40 mins.
Ongoing Appraisal
Topics include: following through on the promises made in the appraisal discussion; how to use a full range of training and development opportunities; avoiding bias; how to keep the process open and two-way; how to encourage on-going feedback and review. Duration:35 mins.
Please drop us a line if you'd like to find out more about the on-site workshops that complement this series. Available as stand alone classroom training or as part of a blended learning solution.
Or you can have a chat with us on 0845 644 8312.
Related Products
You might also be interested in the following related items.