Appraisal Training - Managing Performance
Making sure that managers are both engaged in the Appraisal process and are capable of carrying it out effectively is essential to managing performance in your organisation. Flow learning provide classroom training, e-learning and blended learning to help you improve engagement and capability in Appraisal and performance management
Online Courses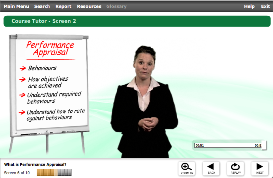 We have four e-learning courses in Appraisal and Performance Management
and you'll find out more about each course by clicking on the each link -
here's a brief summary:
An Overview of Appraisal and Performance Management
This course starts with an attention-grabbing video of a manager moaning about doing Appraisals! The course introduces Appraisal and the key steps to delivering a successful appraisal and why it's so important to improving performance. Topics include: benefits of a good appraisal scheme; the structure of good appraisals; how to successfully introduce an appraisal scheme; how to overcome negative perceptions of appraisals. Duration: 35 mins
Preparing for the Appraisal Discussion
Preparation is one of the key aspects of an effective appraisal. This course covers why it's important, what sort of preparations you need to make and suggests ways of going about it. Topics include: the importance of appraisal preparation; how to gather relevant appraisal information; the criteria that performance objectives need to meet, how to describe and agree on performance objectives.
The Appraisal Discussion
You understand the importance of Appraisal and you've done your prepartions - this course helps you to run the Appraisal meeting, handle difficult situations and get agreement on objectives and assessment performance. Topics include: the structure of the appraisal discussion; how to record the discussion; how to avoid 'appraisal speak'; how to handle difficulities. Duration: 40 mins.
Ongoing Appraisal.
Topics include: following through on the promises made in the appraisal discussion; how to use a full range of training and development opportunities; avoiding bias; how to keep the process open and two-way; how to encourage on-going feedback and review. Duration:35 mins.
Click here: Appraisal offer - to get all four appraisal courses for only £45 per person.
Order online now. Generous discounts also apply if you have multiple users (please get in touch for specific quote)
Classroom Training and Blended Learning
Like the idea of e-learning but concerned your staff won't? Or maybe you feel your managers need the social interaction and exercises that are features of the classroom format? Our blended learning programmes combine online learning with other training methods including classroom training. Because the e-learning has provided the theory the workshop can focus on practice using scenarios, case studies, role play and group discussion. We have ready-made workshops and materials that we can tailor to your requirements or we can design a blended learning programme for you. Classroom training is also of course available without the e-learning element if that best suits your requirments.